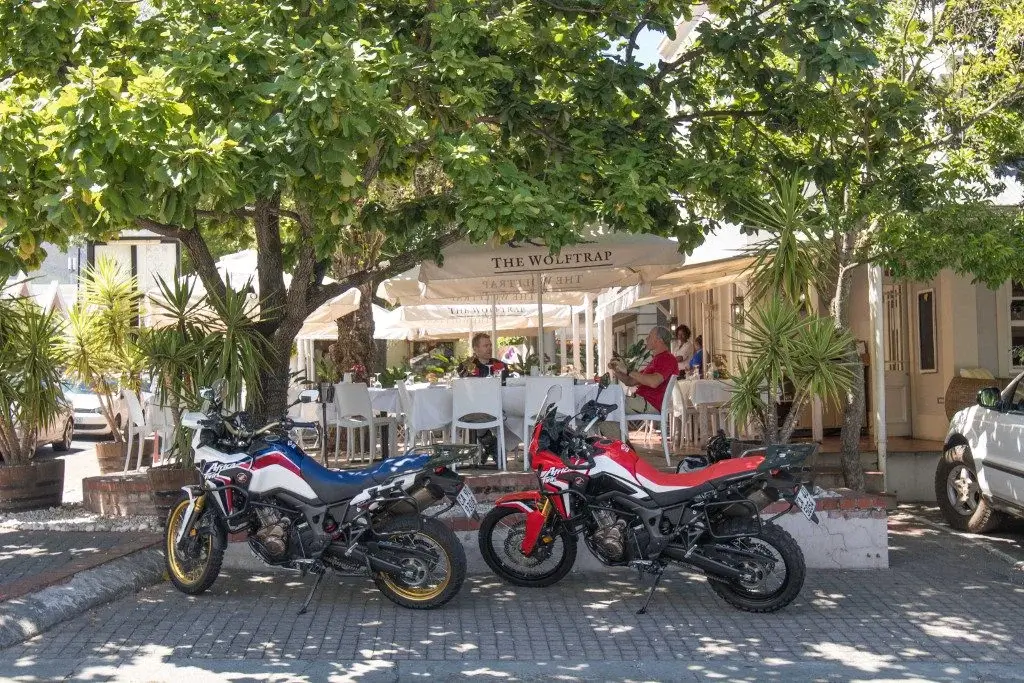 With another fantastic 5 days private tour planned of the Cederberg and Karoo, I picked up Allan at his hotel and we headed to Honda Canal Walk to start our ride.
As I wheeled one of the bikes out of the showroom, I couldn't believe my eyes, a flat rear wheel! Could be worse I consoled myself, at least I had shade and a parking lot to work in. A couple of minutes and a new tube had been fitted and the old one repaired (always a good idea to patch old tubes if possible, you never know when you might need them) and we were on our way.
Although Allan is Danish, he has been living in Egypt for many years and does a lot of dirt bike riding there. This was however his first time on a big adventure bike, but a little advice and reassurance and he soon felt at home as we headed for our first stop at Franschhoek.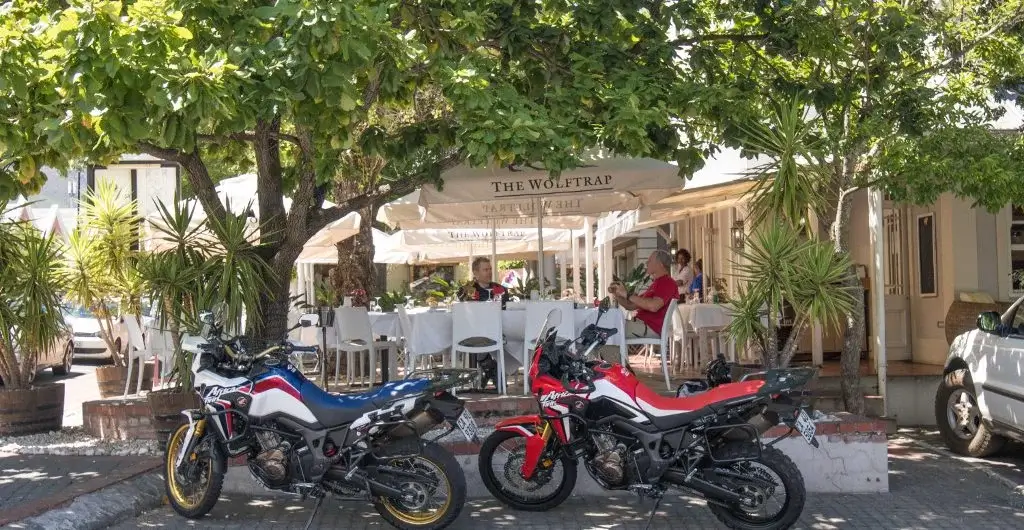 The beautiful Franschhoek Pass followed, and after a couple of stops to admire the view we headed to our lunch stop at Opstal in the picturesque Slanghoek valley.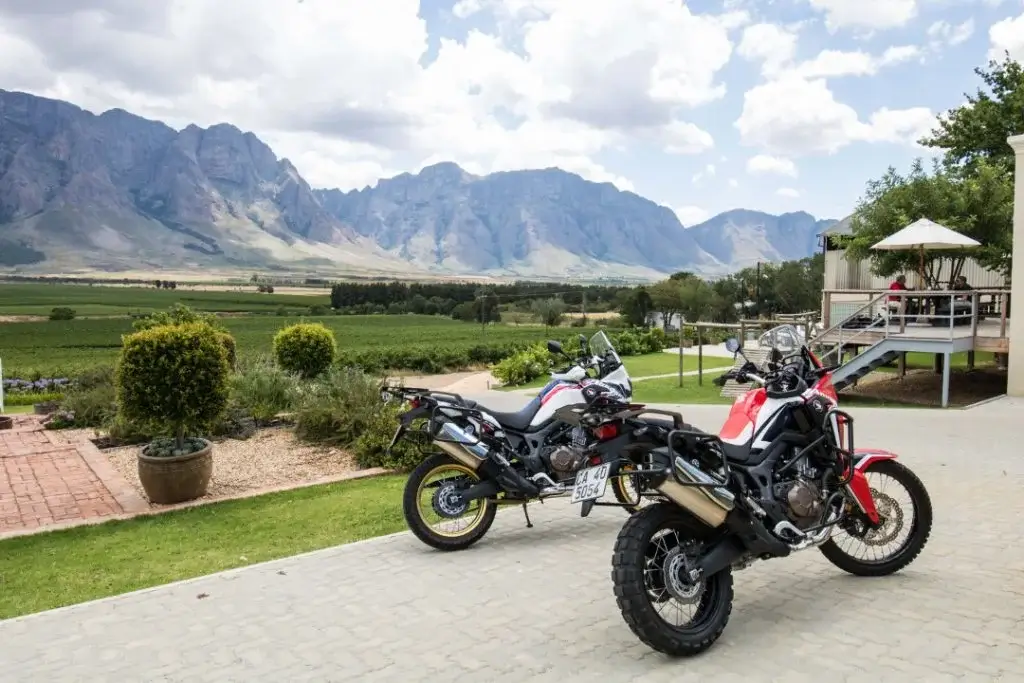 After filling up at Ceres we headed for the Cederberg Mountains and our first unpaved roads for the day. While Allan had felt comfortable on the paved roads he was a little apprehensive about the dirt riding, but the great handling Africa Twin soon had him smiling in his helmet as we made our way to our first overnight spot at Mount Ceder. A couple of well-deserved beers and a traditional South African braai (barbeque) rounded off a great days riding perfectly.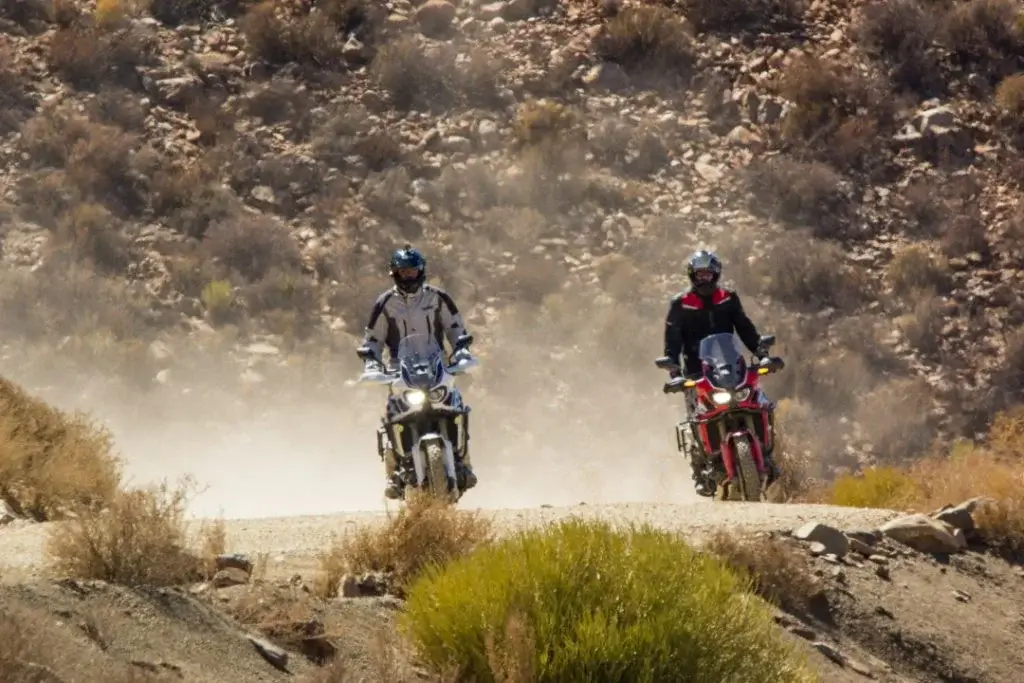 Day two was the shortest day in terms of distance, so we stopped at the fascinating Stadsaal caves to wonder at the 200 year old bushman painting on the rock faces before making our way down Uitkyk Pass to Clanwilliam for lunch. Our overnight spot at Bushmanskloof was not far away, but the intention was always to get there as early as possible to enjoy all this fantastic spot has to offer. Having visited this resort many times, it remains my firm favourite and it is little wonder it was voted #16 out of the top 40 resorts in Africa in 2017. After a game drive with our private guide we made our way in the game vehicles to a platform in the valley for an unforgettable dinner under the stars.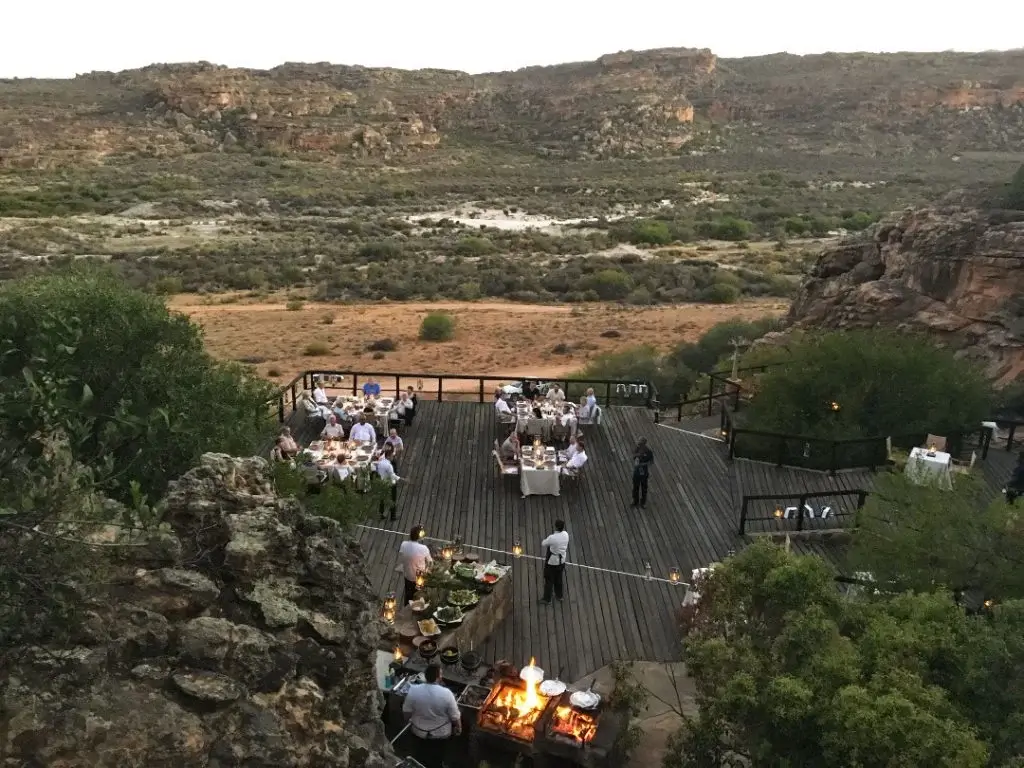 Day three was all unpaved roads, and after a quick lunch in Calvinia we headed out into the vast Karoo plains. The solitude and wide open spaces are great for the soul, but it was also reassuring to know that our back-up vehicle was never too far behind with a fridge full of ice cold drinks at hand. While having a back-up vehicle is a good idea for trips into remote areas, probably the biggest benefit is that it carries all the luggage, allowing the riders to have more fun riding without a bike weighed down by luggage. It also obviously makes packing for a trip a lot easier.
Ascending Gannaga Pass is always fun, but the steep drop on the side of the road is a constant reminder not to get too carried away, and the view from the top breath-taking. After a great days riding we settled into our lodgings and a well-deserved rest.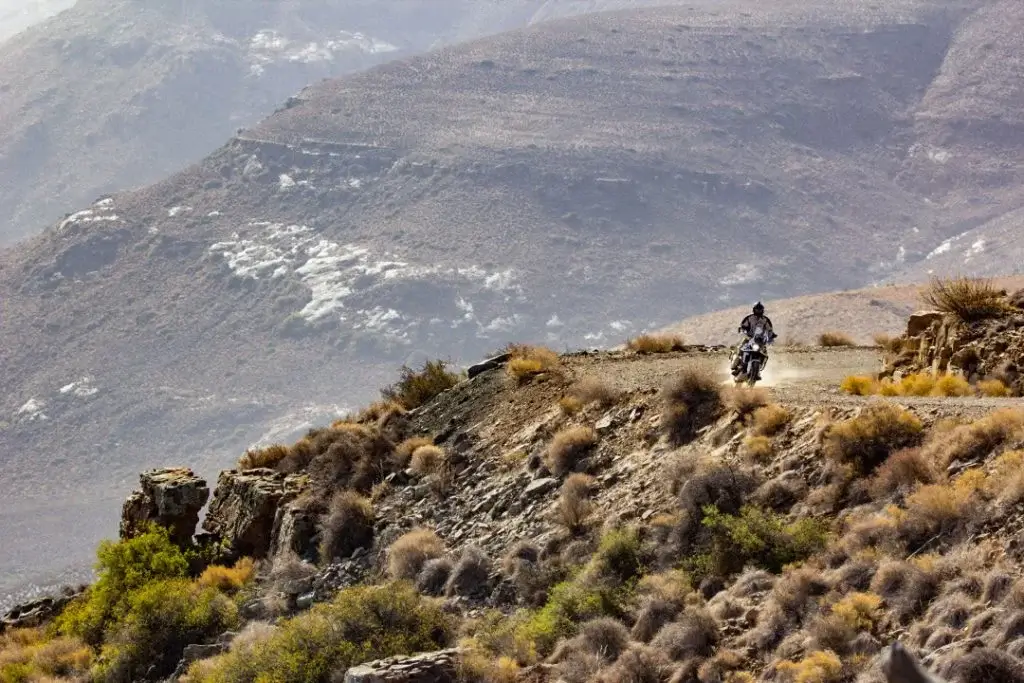 By this stage Allan had truly bonded with the Africa Twin, and after chatting in the morning I decided to change the route a little to give us some more time on the bikes. Sutherland was our next stop, and then another favourite, Ouberg Pass before descending into the Tankwa Karoo again.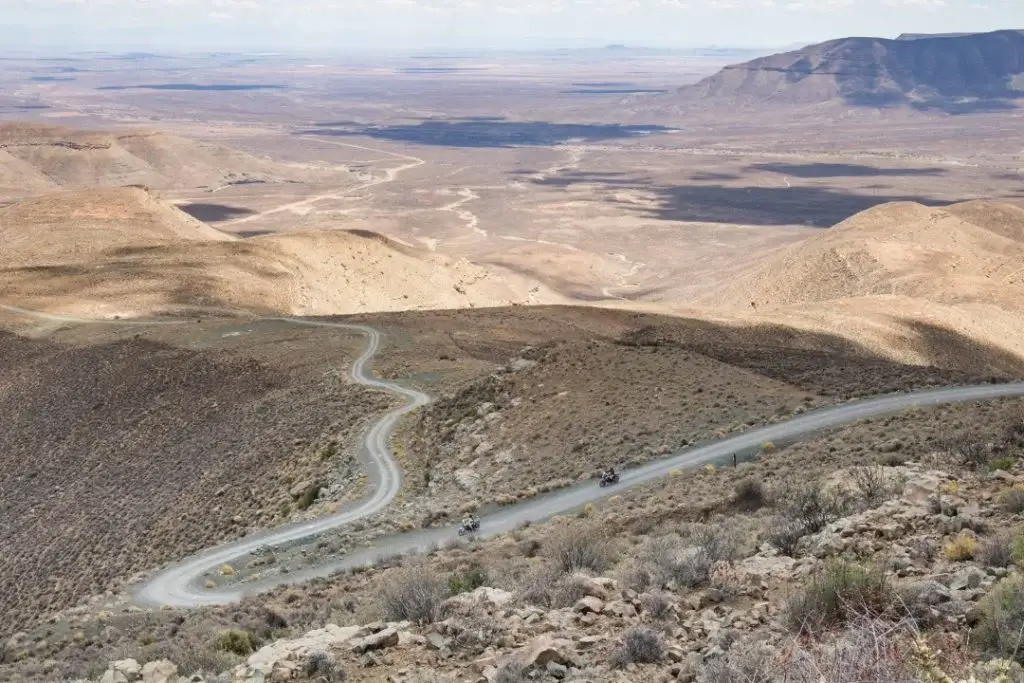 Descending is always a little more tricky on a big adventure bike, but our Africa Twins made short work of the pass and we were soon sipping cool drinks at the Tankwa Padstal. Situated on the R355 this is the only shop on South Africa's longest dirt road, which stretches 250km (155 miles) between Ceres and Calvinia.
Another short stretch of dirt road and we arrived at Inverdoorn Game Lodge just in time for the evening game drive. After spotting the big five we relaxed around the pool with sundowners and enjoyed a great meal in the open air restaurant.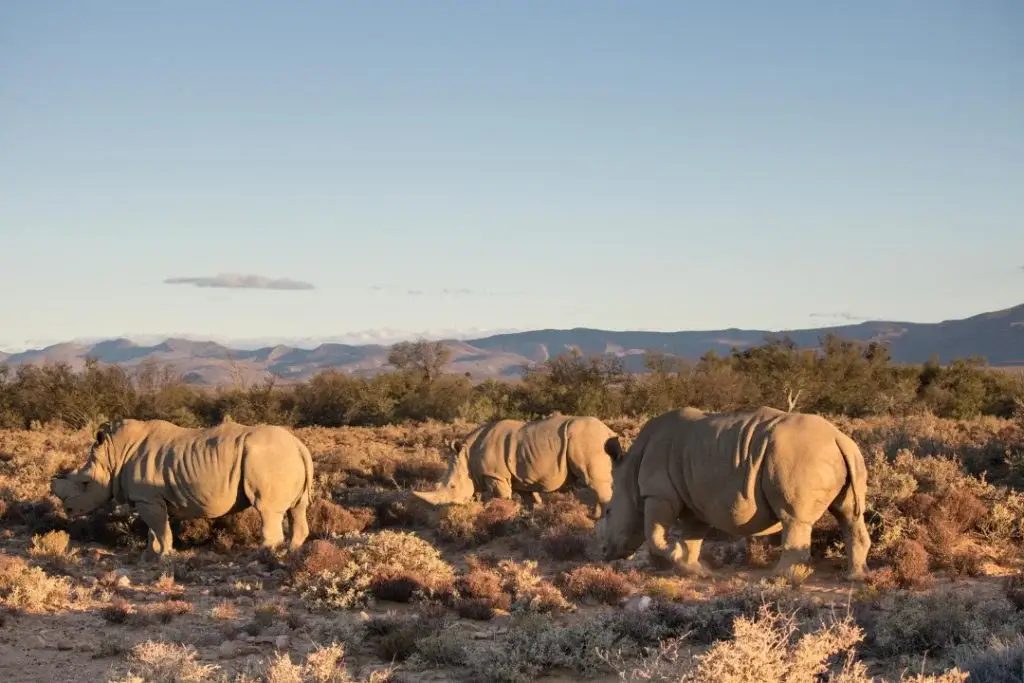 A good night's rest saw us hit the road early as Allan had booked an afternoon flight home, but we still managed to ride the stunning Bainskloof Pass and have a quick lunch at Spice Route before dropping Allan at the airport. All in all a great private tour, and an experience that Allan will cherish for years to come.