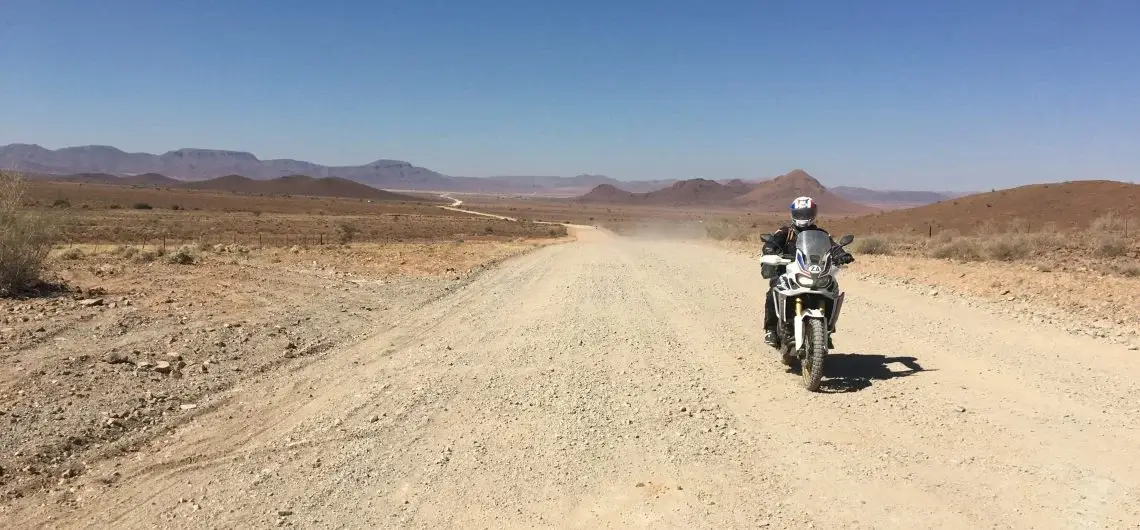 Being based in Cape Town South Africa, we are blessed with probably the best and most scenic dirt roads for adventure riding in the world, but we are also fortunate to be situated close to Namibia, a country that offers a completely different type of riding.
While in South Africa you can do hundreds of miles on dirt roads, in Namibia you often have to do similar distances just to reach the next town, which might only consist of a fuel station and not much more. While the major dirt roads are generally well maintained, the vast distances often mean the secondary roads are neglected, and being a country of mostly desert, sand is always going to be present somewhere if you choose the roads less travelled. Namibia has system rating roads from A down to F, with  A being paved highways and F small farm tracks, but the condition of the dirt roads always depends on when they were last graded. Carrying a satellite phone as well as comprehensive tool kits is also a prerequisite in remote areas such as Namibia. Daily distances also need to be considered carefully, as punctures or mechanicals can quite easily have you in trouble, and incident free days simply mean your first beer is a bit earlier.
The distances between stops also require careful planning, as fuel range, mechanical issues or accidents can leave you stranded in the middle of nowhere, with no cell phone reception or passing traffic to rely on. Knowing the riding ability of the group is also important, as on this type of trip everyone has to ride well within their limits to ensure safety. One thing I have learnt from experience is that asking locals about road conditions is not very helpful, as most of them will be used to travelling in 4×4 vehicles, and consider rocky roads difficult and sandy ones easier, which is usually the opposite for adventure motorcycles. On trips like these we always ensure that when turning off from the road we are travelling on, the first rider waits until the next rider acknowledges having seen him, and he then waits for the next rider to acknowledge him. After approximately 50km the leader will always stop to ensure the whole group is okay, to prevent having to backtrack too far if there has been a problem.
While the logistics for a trip through Namibia require careful planning, the knowledge that you can't afford to make any mistakes only adds to the sense of adventure, and the desolate beauty of the area is simply stunning.
After a number of meetings and a good few beers to plan the trip, we set off for our starting point at the small town of Springbok in northern South Africa, as this would allow us to explore a section of the Richtersveld that we had not yet ridden, and we would then cross the ferry at Sendelingsdrift to Namibia.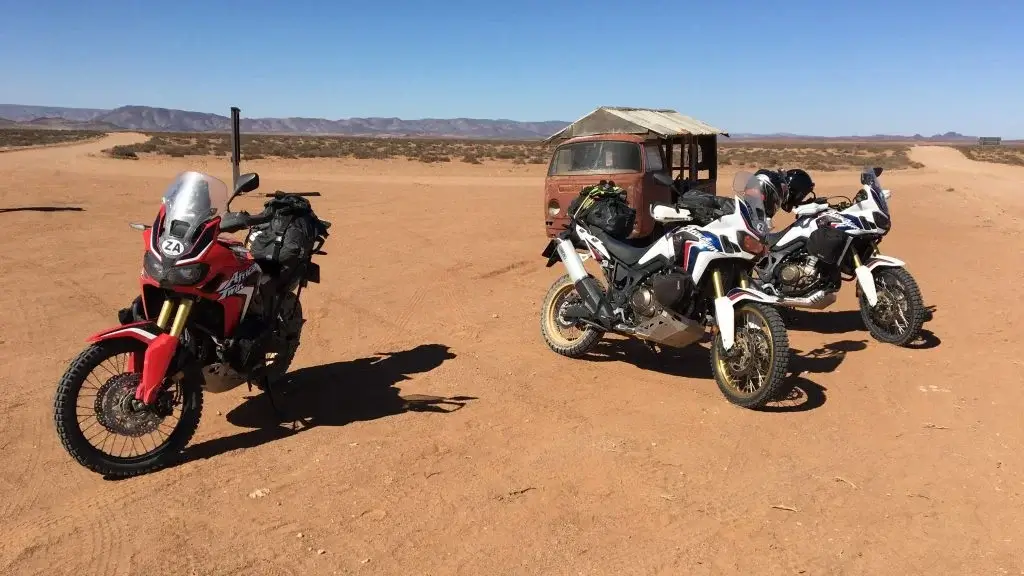 It did not take long before we hit the dirt roads, but being in reasonably good condition it allowed the two less experienced members of our group of six to settle in nicely before things got tricky. After passing through Eksteenfontein and down a steep and rocky mountain pass we made our way onto the sandy planes of the Richtersveld and headed towards the Richtersveld National Park. The roads got steadily sandier with blind rises and a few tricky off camber turns, one of which was particularly nasty. At the next stop the second rider and I waited quite some time, and realising the others should have arrived, decided to back track. One of our group had taken a tumble, but with only a few scratches to the Africa Twin and a bruised ego, we all headed off again, all a little more cautiously.
With the roads getting progressively more sandy and corrugated, the bike tends to move around quite a bit, but a few kilometres further I knew something wasn't right, and glancing down I saw the reason, a very flat back tyre on my AT. While changing tubes in the heat and dust is never fun, at least the warm tyre is easier to remove, and 30 minutes later we set off for the border post, arriving with half an hour to spare before the last ferry. Border posts are never fun, but after patiently completing all the forms we were on the ferry and could almost taste the cold beers at our overnight spot of Rosh Pinah in Namibia.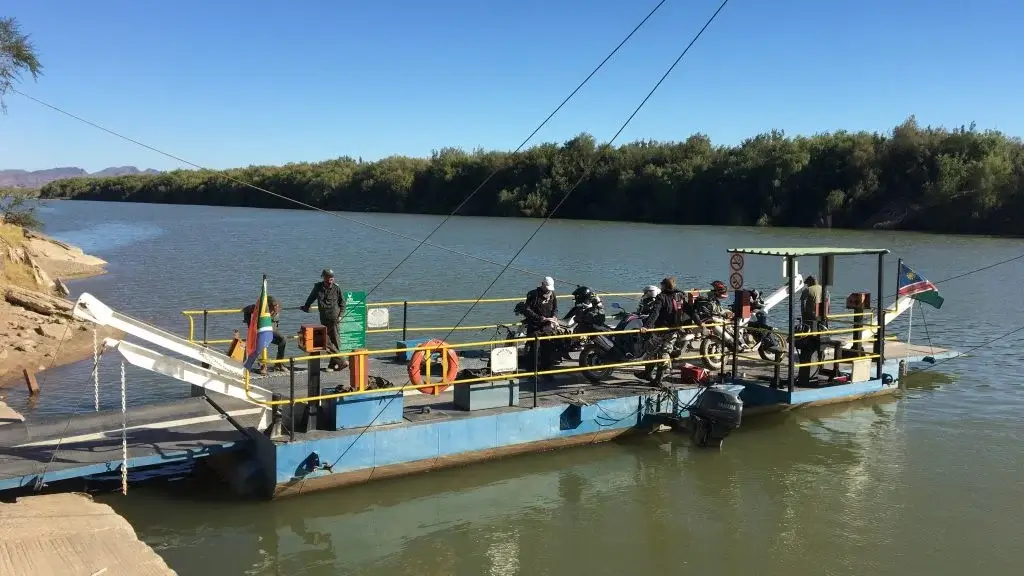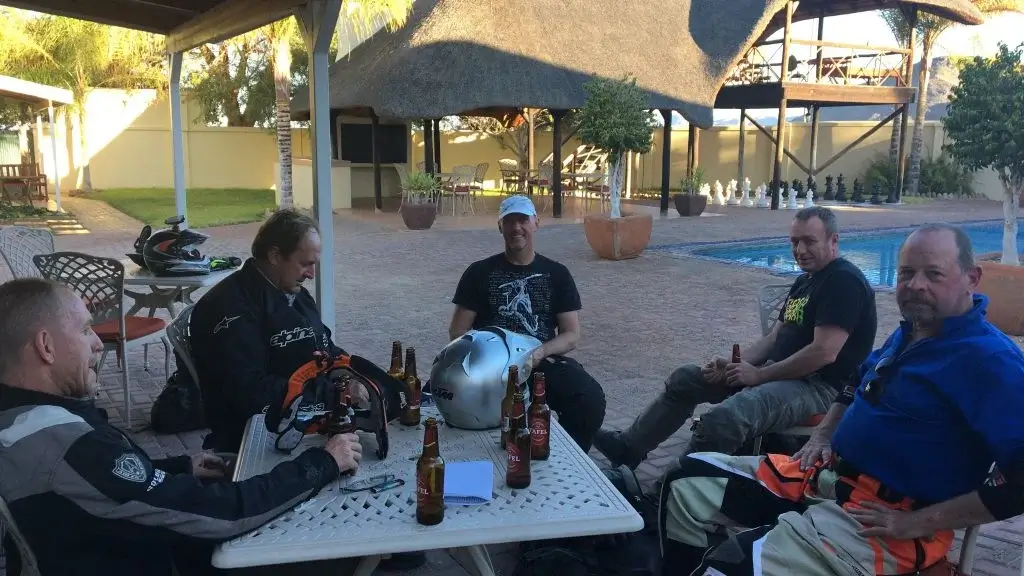 Day two consisted of a loop on D roads from Rosh Pinah up to Aus, and with the distance between fuel stops being 350km we needed to conserve fuel, as this was close to the limits on the Africa Twins. Fortunately the roads were in reasonably good condition, with only a few sandy river crossings to slow down the momentum, and with a few stops to regroup and soak in the views we arrived at our destination at Klein Aus Vista with plenty of time to spare. Renowned for its wild desert horses and beautiful desert setting this has always been a favourite destination of ours. A quick beer at the hotel on arrival and we then made our way to our chalets about 7km away on a nice sandy road. We had organised with the hotel to deliver beers and meat to our chalets, and pretty soon we were sitting round a fire watching a spectacular sunset and recounting a great day's ride.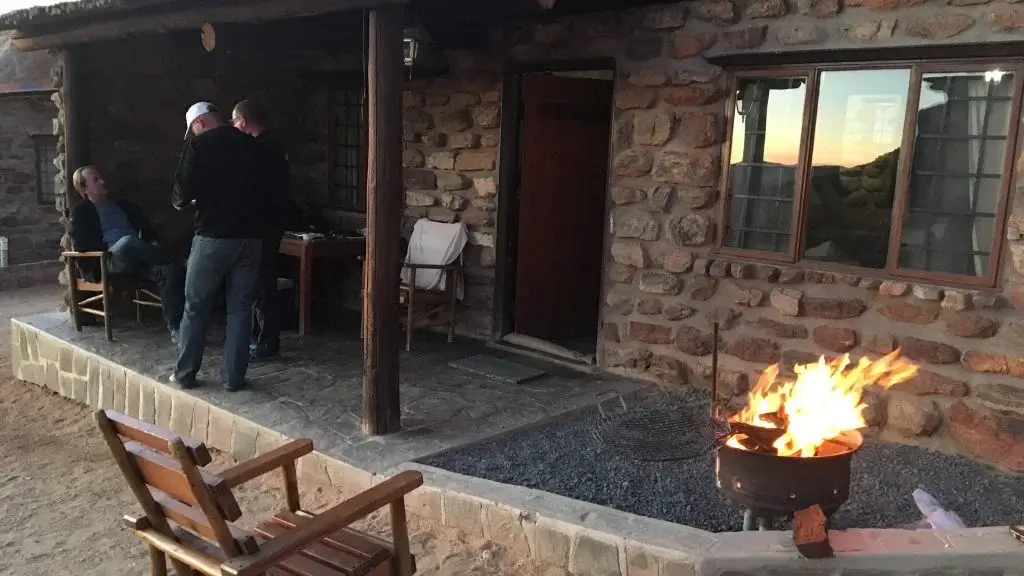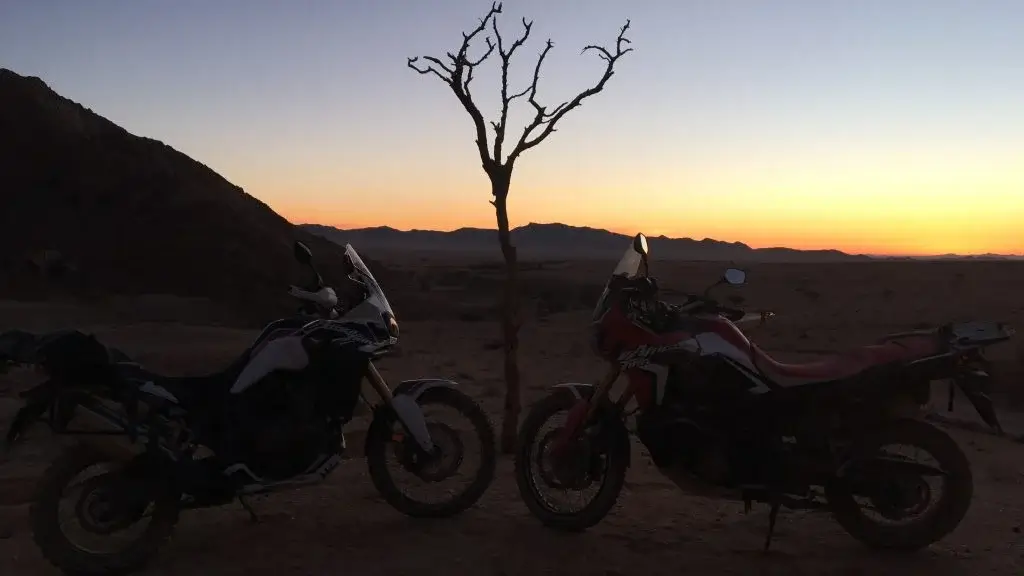 Day three was a loop up to Beta and down to Helmeringhausen, and I had heard from a few people that the road was in bad condition and really sandy, but as mentioned, this can change overnight if the road has recently been graded, so with the knowledge that everybody had handled the sandy patches we had encountered thus far with relative ease, we headed out towards Beta. It didn't take long to realise the roads had not been graded in quite some time. A fully laden adventure motorcycle is never an easy beast to handle in sand, and having done this type of riding on other motorcycles, I was expecting a bit of a battle. This however was where the Honda Africa Twin really showed what a great adventure bike it is. A combination of the low centre of gravity giving the bike lots of stability as well as the good torque and smooth power delivery made the sand really enjoyable, and pretty soon I found myself simply sitting through most sections where I would have been standing and holding on for dear life on other bikes. Once we were all safely through the sand there were a couple of really corrugated roads just past Beta, and once again the comfortable saddle and plush suspension of the Africa Twin made even these roads enjoyable. While many people have criticised the suspension of The Africa Twin as being soft, on an adventure ride where you are spending hours in the saddle, plush suspension is what you need, and I firmly believe it is a waste having suspension travel that you are not using. After a great meal at the Helmeringhausen Hotel and a chat about the challenges of the day we all retired to our rooms to be up early the next day.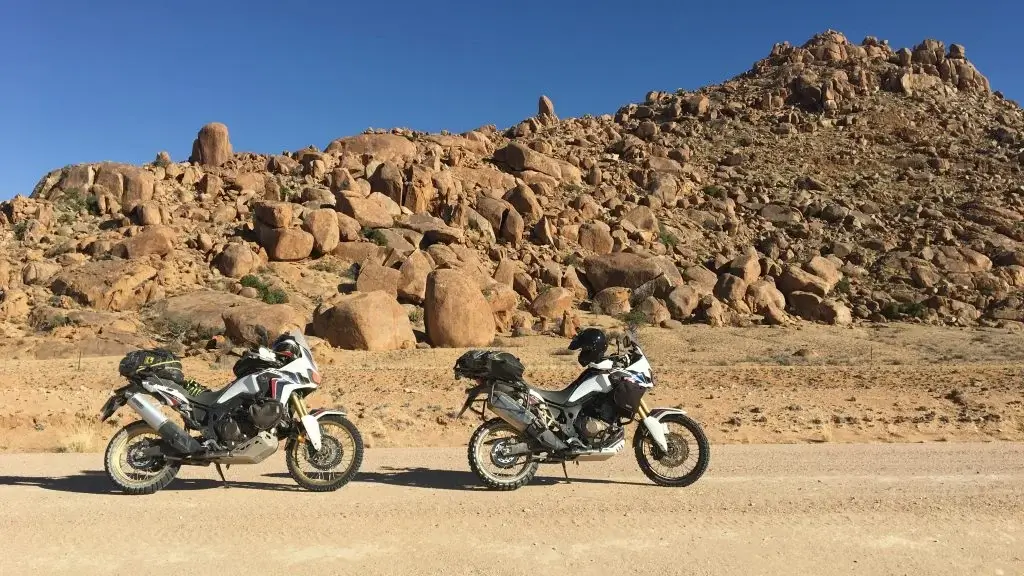 Day four was to be the longest day in the saddle, with 500km to cover, but knowing that the roads would be in a reasonably good condition I wasn't too concerned.  After covering the first 100km to Bethanie pretty quickly, we turned off onto a great secondary road which twisted its way through the mountains and brought us out close to the Seeheim Hotel, our next stop for fuel. While we could probably have reached our next stop of Canyon Roadhouse without refuelling, knowing that the roads would allow us to travel faster, I didn't want to be concerned with saving fuel. Taking the shortest route meant riding on a badly corrugated road, but once again the suspension on the Africa Twins made it easy, and we arrived at Canyon Roadhouse for lunch with plenty of time in the bank. After refuelling both bikes and bodies, and a stroll around to look at all the old cars and other interesting history, we hit the road again.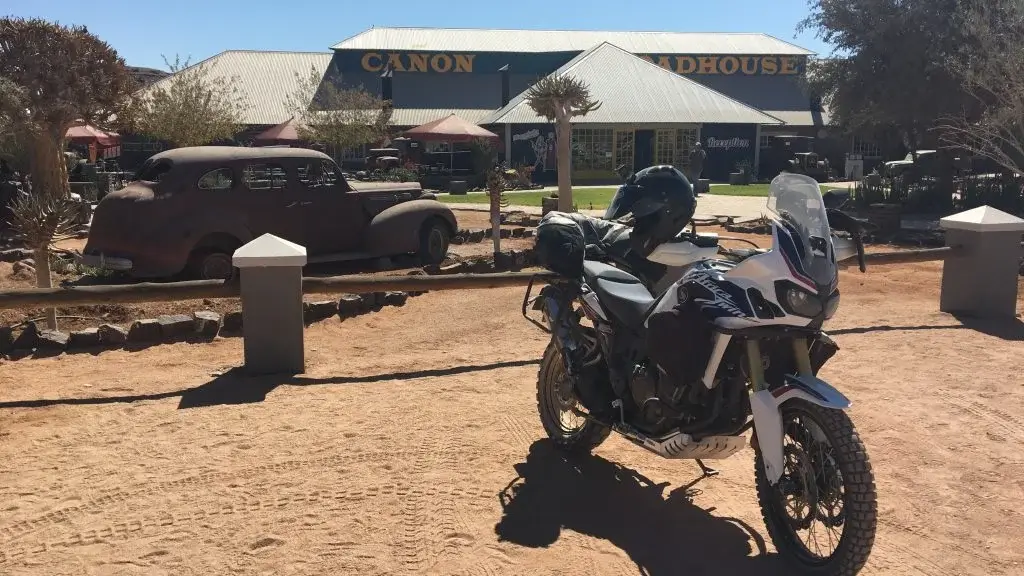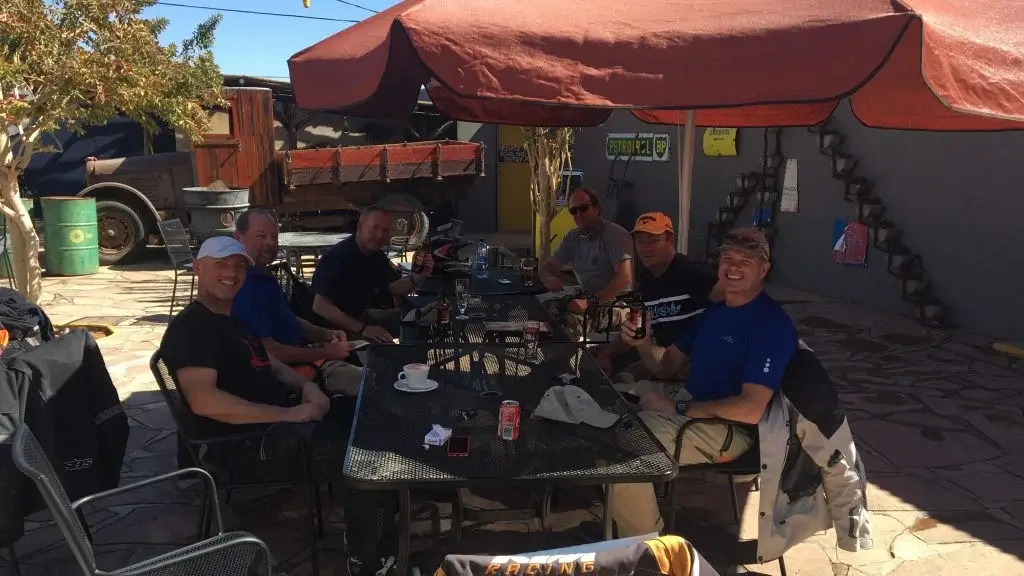 When passing through this area, a stop at the Fish River Canyon for a couple of photographs is a must, and with that box ticked, we headed though the mountain pass towards Ais Ais. At our next stop the wait for the next three riders again took longer than usual, and when the fourth rider arrived his news was of a front wheel impact puncture on one of the bikes 20km back. One of the dangers on the sandy stretches is that the sand often hides rocky outcrops, with impact punctures the result. Having enjoyed the last section of road, two of us decided to ride back to make sure everything was okay, and arrived just as the wheel was being replaced. Once we had all regrouped with only 100km to go I decided to make the next stop at an intersection 60km away, as time was now starting to catch up with us. Once again the wait for two of us took longer than usual, but we kept ourselves busy by helping a stranded motorist who had two impact punctures. Not having enough fuel to ride back, and with the sun already starting to set, we set off on the 43km to Noordoewer to refuel and then backtrack to where we had last seen the rest of the group. Riding at night is never a good idea, but in Africa with sandy roads and wild animals it becomes very dangerous, so we were both relieved to receive a call from the rest of the group that they were all safe and making their way to our overnight spot at Felix Unite on the Orange River border. When they finally arrived we heard that the replaced tube from the first puncture had vibrated out of a tool bag and jammed in the back wheel of one of the bikes, derailing the chain which proceeded to jam itself between the front sprocket and casing of the bike. This resulted in having to strip casings from the bike to release the chain, and then a few kilometres further they had a second impact puncture. Apparently the last section of rutted sand road was not fun in the dark, but with everyone safe we settled down to a good meal and a good couple of beers.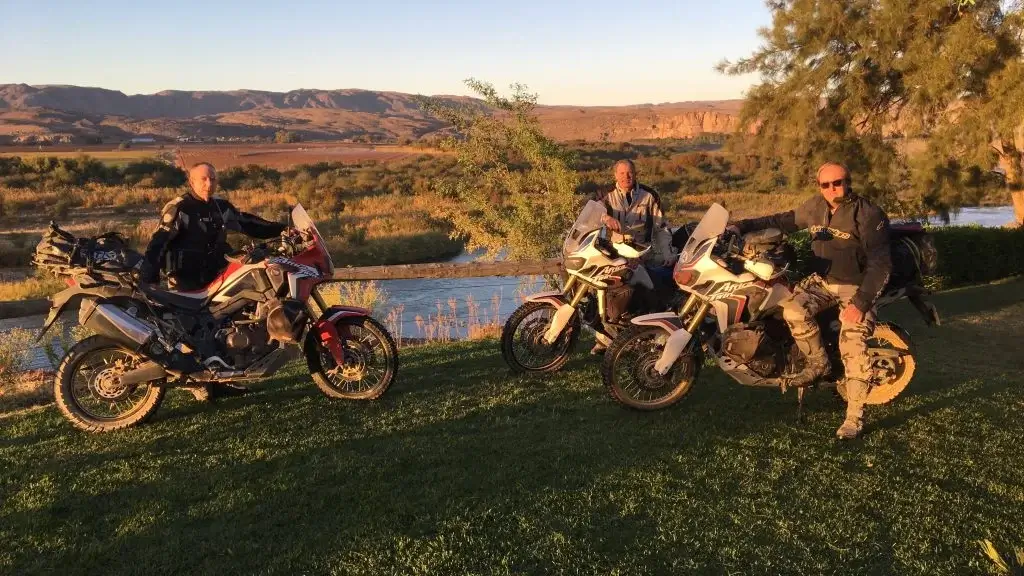 As with most trips the last day is always a bit of an anti-climax, but with a relatively easy border crossing and a lunch stop at Letsatsi Lodge in Van Rhynsdorp we made our way home happy after a great trip, with no serious incidents and more importantly no injuries.