"the Freedom had us hooked"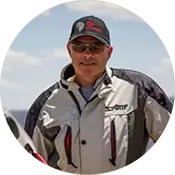 Gavin Dahms
Our Experienced Tour Guide
"Keeping everyone safe and happy is a combination of scenic routes, manageable terrain and appropriate distances .Good accommodation and hospitality after a days riding is also essential."
Born in the city of Cape Town in South Africa, the motorcycle bug bit early, and by age 7 I was terrorising the neighbourhood on a 50cc minibike. Once bitten, this passion never really dies, the motorcycles just get bigger and more expensive.
In 43 years of motorcycling, I have ridden nearly all there is to ride, and have been privileged to own 32 different models of motorcycles over the years.
In the 90's when motorcycle manufacturers started producing motorcycles specifically targeted at off-road touring, my riding mates and myself soon realised we were living in a country ideally suited to this new sport of adventure riding. The freedom to be able to ride your motorcycle as well as visit stunning locations off the beaten track, had us well and truly hooked. Very soon every weekend was spent exploring new routes and destinations. The extensive network of paved and unpaved roads, stunning scenery and unbeatable hospitality makes South Africa the ideal location for motorcycle tours.
In 2016 I made the decision to leave the corporate world to start a business I was passionate about, and Africa Twin Adventures was born.
As the owner of the business, I accompany and guide every tour. While this sometimes means we can't accommodate guests on the exact dates they would like, due to prior tour bookings, I believe this is the only way to maintain our high standards and reputation. I focus on personal attention and attention to detail, and this is not possible with bigger groups. My tours cater for a maximum of five riders with no minimum number. While there might be more money to be made in running multiple tours at the same time, this business is not all about the money. Unlike most other motorcycle tours in South Africa, my tours are not just about the riding. No expense is spared in making sure the accommodation and cuisine is the best on offer. My overseas guests are always amazed by the high standards of accommodation and cuisine in South Africa, and I only use the best of the best.
While customers are free to choose one of the favourite routes listed as options on this website, most of my tours are bespoke. After a couple of questions and at no extra cost, I can put together an exclusive motorcycle tour of South Africa tailored to your preference. Not everyone has the same level of riding experience, and it is very important that you feel safe and comfortable on the bike and enjoy your motorcycle tour. I am also very flexible when it comes to changing the route, if necessary, while on tour. I have also done many trips where the partner of the rider has wanted to tour South Africa but wasn't comfortable as a pillion. The partner did the trip in our backup vehicle and thoroughly enjoyed being part of the adventure.
The safety of my guests is extremely important, and my knowledge of just about every road in the area means I always choose routes appropriate to your skill level or change the route while on a ride if I think you might struggle. I always ride at the front of the group, to warn riders of any dangers, and to control the speeds. The safety of my guests while on their motorcycle tour of South Africa is my top priority. As with any country in the world, there are certain areas that should be avoided, and I will make sure we only visit areas that are safe.
Besides meeting some amazing people, the most rewarding part of running this business is being able to share the best that South Africa has to offer, and seeing how much my guests enjoy these trips.