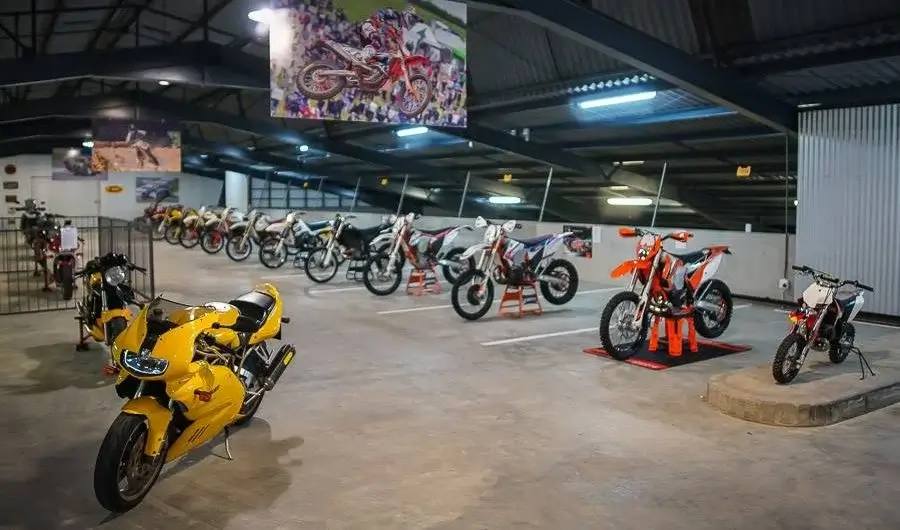 Knysna has always been known as South Africa's favourite holiday town due to the natural beauty of the area, but lately it has also gained a reputation as being a mecca for classic car collectors and motorsport, with the Simola Hill Climb being a highlight for many fans.
The fantastic dirt and paved roads also make Knysna a motorcycle rider's heaven, so it is no surprise that owning and riding motorcycles is hugely popular in the area, and nobody is more enthusiastic than my mate Colin Stunden. Colin started riding and racing off road motorcycles at a young age, and his passion for riding has only grown over the years. In addition to his weekly rides through the Knysna forest, when our group arranges an adventure ride, there is never any doubt about whether Colin will be able to make the trip.
Riding motorcycles naturally involves owning them too, and over the years Colin has probably ridden all there is to ride, and bought and sold countless motorcycles. As it happens with many of us, you very often see an old motorcycle that you used to own, and the memories come flooding back, and you regret having sold it. A few years ago Colin managed to buy a couple of motorcycles he had previously owned, and parked these in the garage next to his new motorcycles. The rest is history, and very soon a second garage was needed to store his bikes.
The enjoyment of owning old motorcycles is being able to share the memories with other enthusiasts, and Colin soon had people asking him to show them his motorcycles. With the number having grown considerably, space to store them and work on them soon became a problem.
The solution?
The Motorcycle Room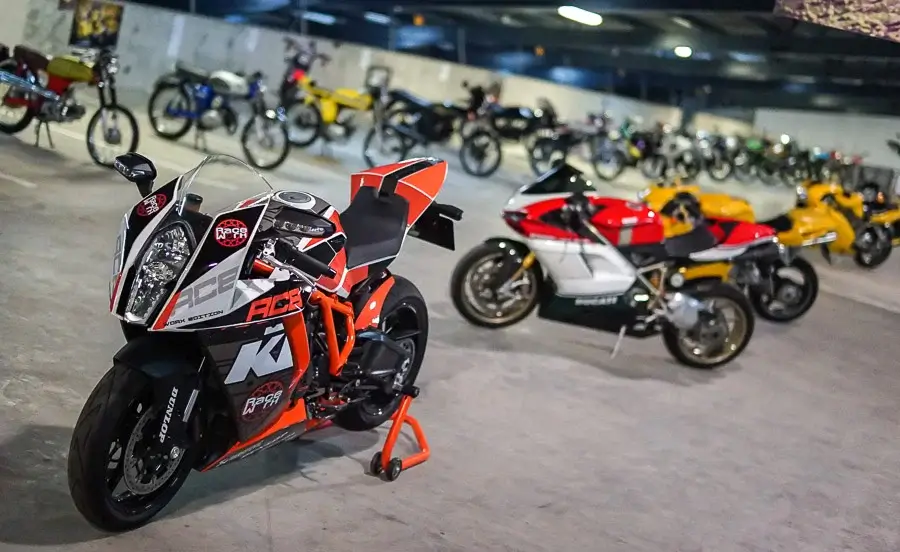 It's never too difficult to find a reason to make a trip from Cape Town to Knysna, and attending the opening of The Motorcycle Room had my wife and myself on the Honda Africa Twin hitting the road in no time.
Having been mates for many years, I know Colin as somebody that likes to do things properly, but even I was surprised at what he has managed to put together. To describe the Motorcycle Room as a museum would not really be accurate, and I would describe it more as a living museum, or simply a meeting place for motorcycle enthusiasts. The older motorcycles are not all restored to showroom condition, with many still being ridden and there are many current models on display too. With plenty of space to walk around each of the 50 plus machines as well as a lounge and workshop area, Colin has created a relaxed atmosphere and what is probably every motorcycle lover's ultimate "man cave".
While Colin clearly has a love for two strokes, with his Yamaha RD 500 and Yamaha RZ 500 reflecting this, I feel trying to single out any particular model in the collection is pointless, as different models mean different things to each of us.
If you happen to be visiting Knysna, passing through the area, or are looking for a reason to head that way, The Motorcycle Room is a must see.
Facebook: The Motorcycle Room