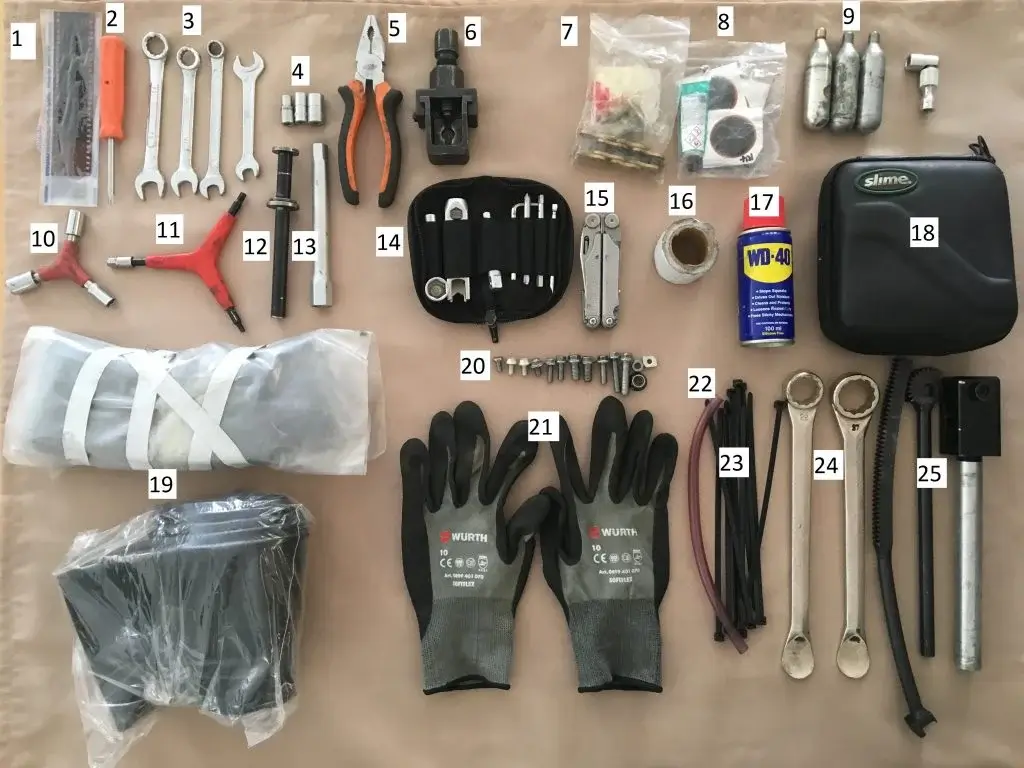 While many motorcycles come equipped with toolkits, these are generally quite basic, requiring anybody intending to do a long trip to assemble their own. The challenge with carrying anything on motorcycles is always space and weight, and this applies to toolkits as well. What to carry in your toolkit depends on a number of factors, including how remote your route is, as well as your ability to repair issues yourself. The terrain you are travelling over, as well as the model of motorcycle will also influence the tools as well as any spares you need to consider including. When travelling in a group we also try not to duplicate certain items, allowing us to carry a bigger range of tools amongst the group.
While this is not a comprehensive list of items that can be carried, and sometimes changes depending on the area we are visiting as well as the length of the trip, below is a list of items generally in my personal toolkit.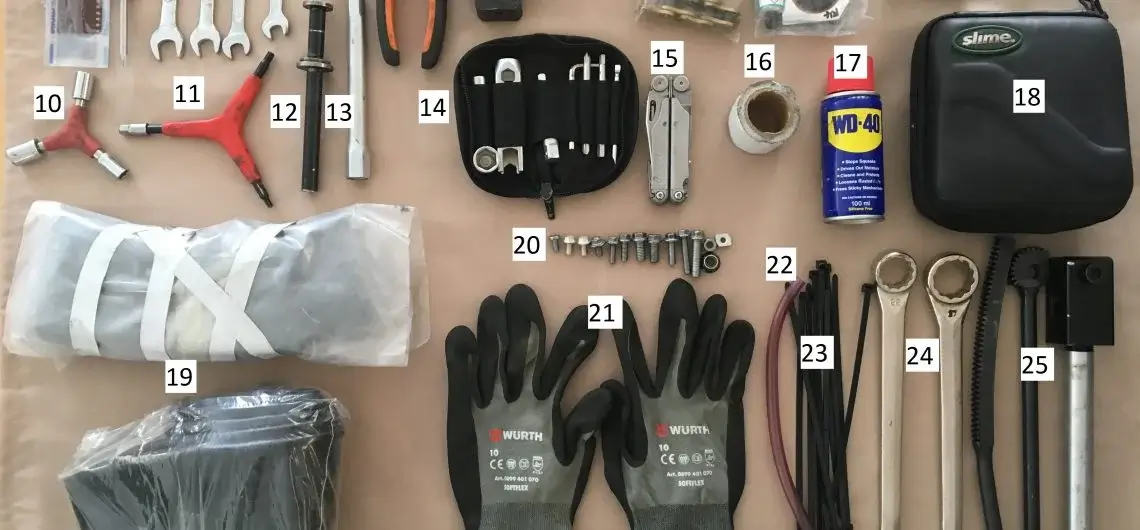 Camera film

 – used to clean leaking fork seals. Not as easy to use as fork seal cleaners or feeler gauges, but still effective and a lot lighter and more compact.

Reversible screwdriver
Spanners

 – a range to fit the most common sizes on your bike, usually 8 to 14mm.

Sockets

 – useful for getting to fasteners which can't be reached with the spanners. Make sure you have the correct driver as well.

Pliers
Chain breaker

 – Seldom needed, but a necessity if your link less chain does break.

Extra links

 – needed to repair link less chain.

Patches and solution

 – Always a last resort, but takes up very little space. While the punctured tube is being replaced with a spare, ask a mate to patch the damaged one, as this saves time in the event of future puncture and gives the solution time to cure properly.

Gas bombs and connector

 – again a last resort, as these are not very effective in seating the bead of a large tyre, but good as a backup for a compressor.

Three way socket
Three way allen key
Axel remover

 – useful for removing stuck axels

Spark plug spanner

 – check that you have the correct size for your bike.

Motion Pro multi-tool

 – compact and extremely useful.

Leatherman
Duct tape
WD 40
Mini compressor

 – a good quality and compact one is essential.

Spare tubes

– carry these even when running tubeless, as a dented rim or sliced tyre can still be inflated with a tube. At the very least carry a front tube, this can be fitted to the rear if all else fails. Wrap tubes in a durable covering to avoid chaffing.

Spare nots and bolts

 – things have a way of rattling loose on long adventure trips.

Mechanics gloves

 – make changing hot tyres and other messy jobs much easier.

Length of fuel pipe

 – not essential, but doesn't take up much space, and can be a life saver.

Cable ties
Tyre levers

 – ones that have axel nut spanners save space.

Tyre fitment tool

 – Not essential, but makes fitting tyres a lot easier.