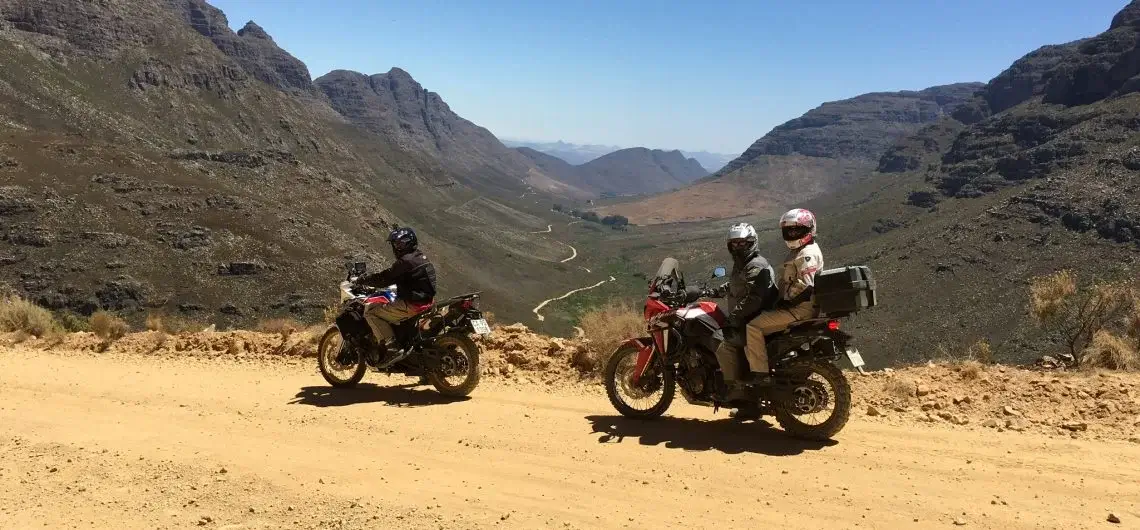 Africa Twin Adventures has just completed another great adventure tour through the Cederberg and Karoo area of South Africa.
After collecting our two guests David and Donna Hicks at the airport in Cape Town, we dropped them off at their lodgings at the Cape Royal Hotel in central Cape Town as they had wisely chosen to spend a few days exploring the city before our trip. After having enjoyed Table Mountain, Cape Point, Robben Island, The Waterfront and Boulders beach to watch the penguins, we collected them again on Friday morning and made our way to Honda Wing Canal Walk for the start of our tour.
Kitting up and setting Go-pro cameras can take longer than expected, but with plenty of time in hand we headed out to Franschhoek, our first stop of the day. After a stop for pictures at the top of the stunning Franschhoek Pass we made our way to our lunch stop in the beautiful Slanghoek valley.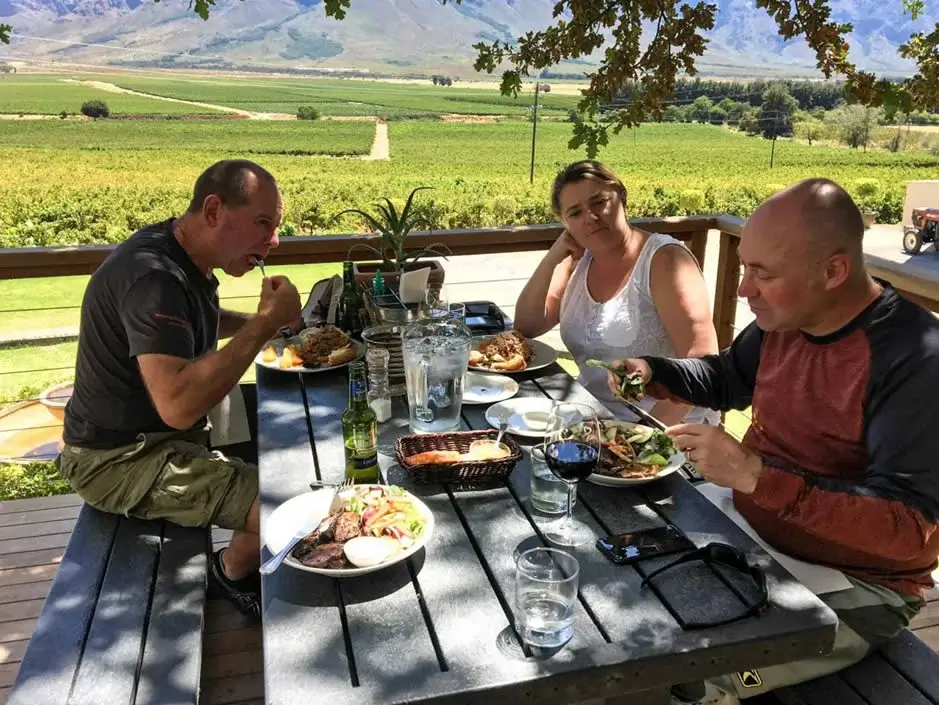 After lunch it was Mitchel's Pass and then Ceres, before long we were on unpaved roads twisting through the beautiful sandstone rock formations of the Cederberg. It was a very hot day, and stops for ice cold drinks from the back up vehicle were essential, and the air-conditioned lodgings at Mount Ceder  made for a good night's sleep.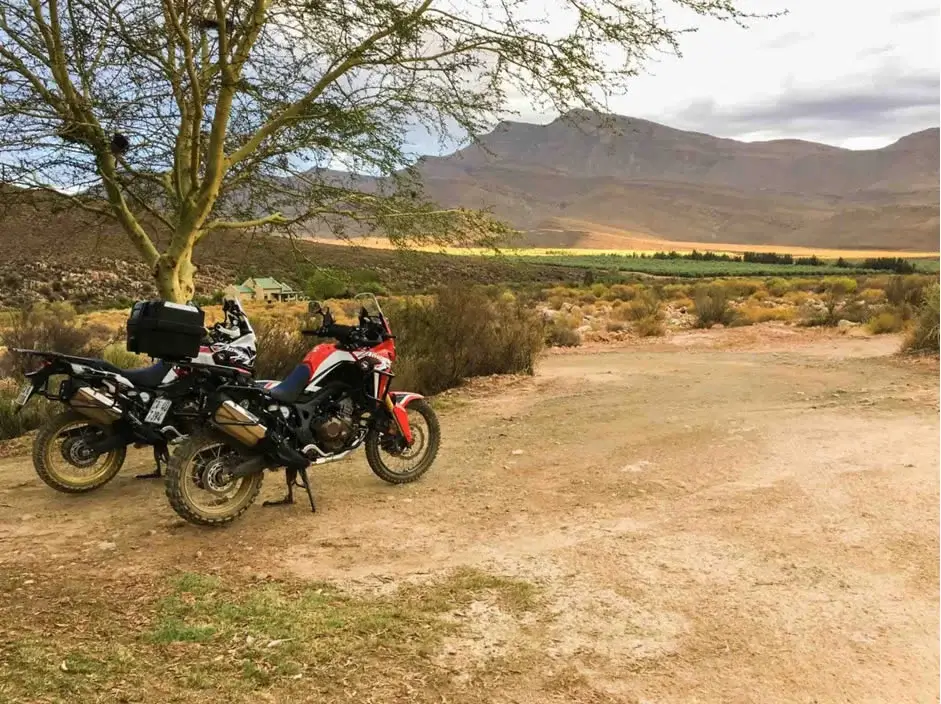 Day two and the whole day would be spent off road. After a good breakfast we headed to Stadsaal Caves to marvel at the 1000 year old bushman paintings and incredible cave formations. The sandy road to the caves made Donna a little uncomfortable, so she decided to travel in the back up vehicle for this stretch.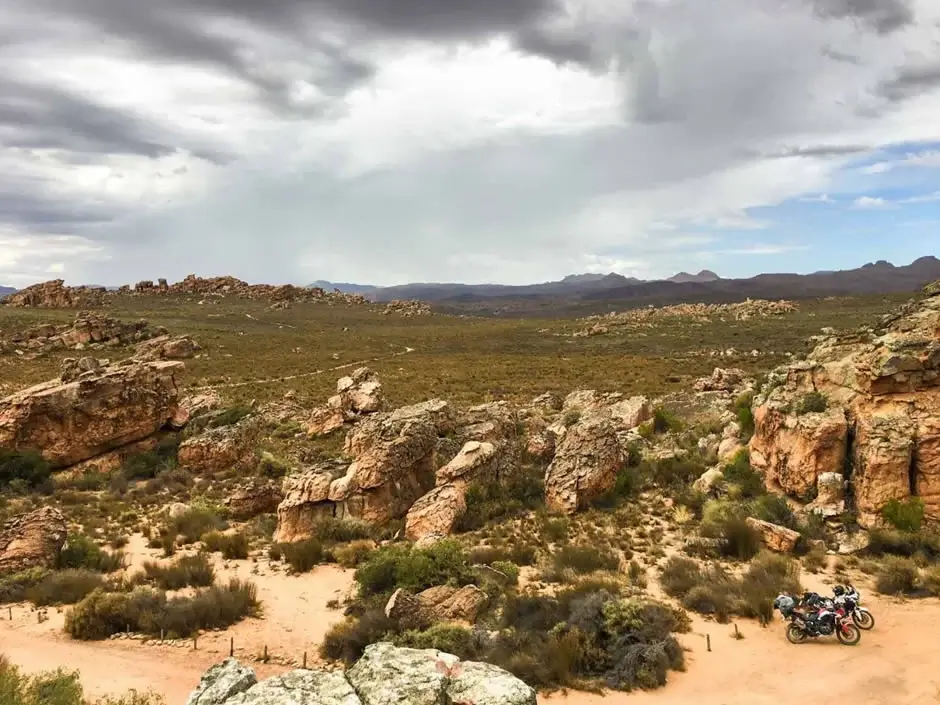 After the caves, a short ride brought us to Cederberg Winery, where we of course had to sample a glass of their award winning wine before making our way up Uitkyk Pass and on to Clanwilliam for lunch. Pakhuis Pass was next, before we arrived at Bushmans Kloof, a stunning wildlife reserve and resort in the Cederberg. A swim in the pool, a sunset game drive and dinner in the five star restaurant, and another memorable day came to an end.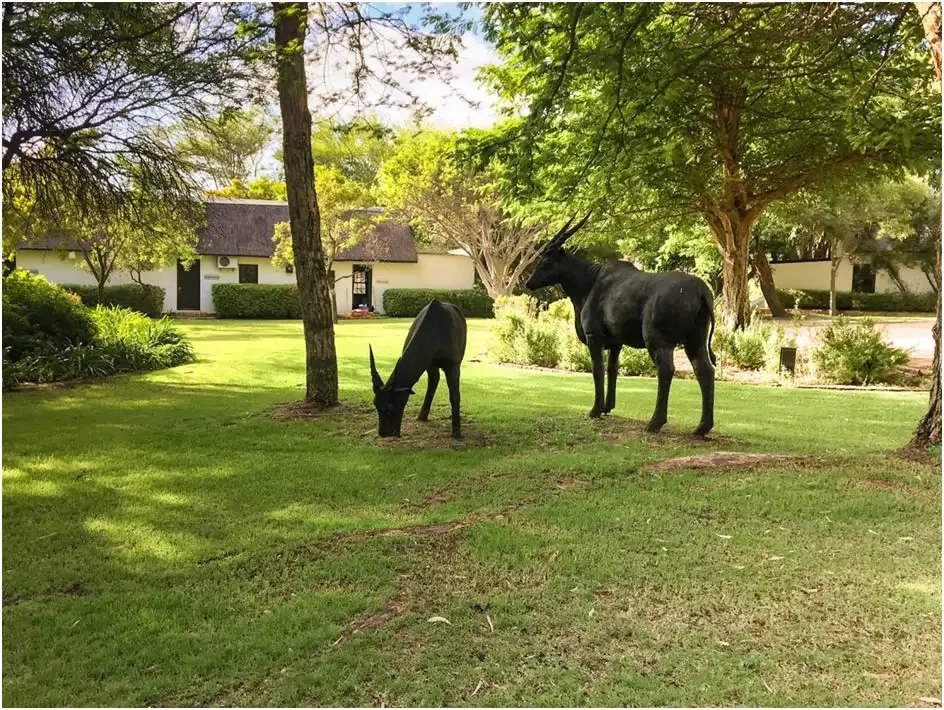 Day three was all unpaved road, and time to ride through a completely different ladscape, that of the Great Karoo. This desolateand stark landscape never fails to impress everybody travelling through these vast open plains.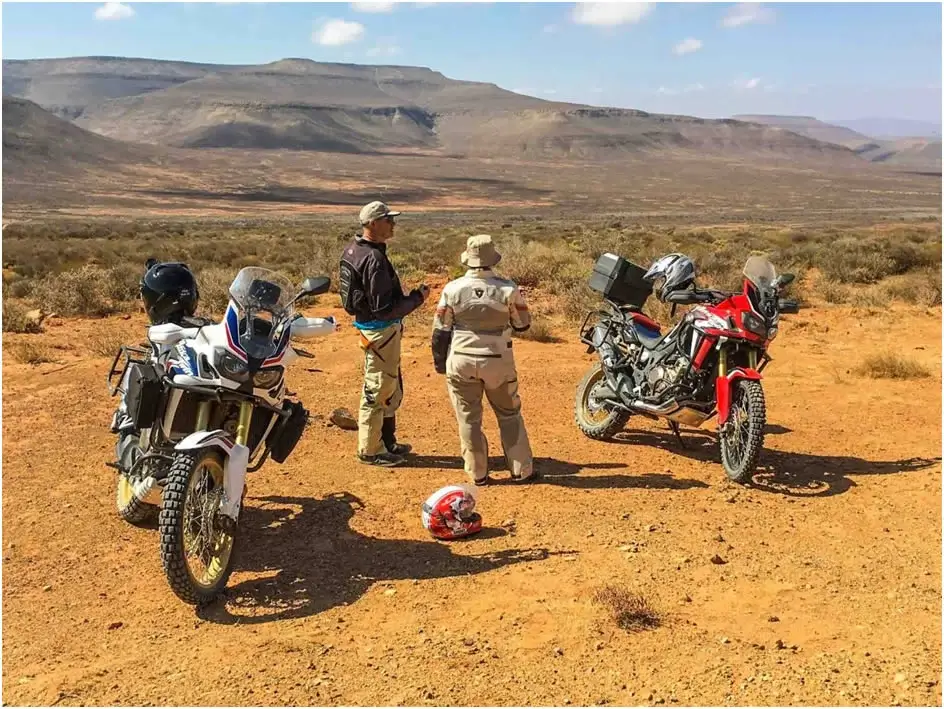 Unpaved roads and plains that stretch out as far as the eye can see make for adventure motor cycle heaven, with the only frustration being that even wide angle lenses cant capture the spectacular scenes. A brisk ride across the plains and up Gannaga Pass for a traditional South African lunch and we headed to or lodgings in the Tankwa Karoo National Park.
Watching the sun setting over the plains while sitting in a pool with a glass of Champaign, followed by a traditional South African braai (barbeque) is definitely a great way to bring another  fantastic  days riding to an end. Even though I have travelled here many times before, the natural beauty and tranquility of this area still amazes me., and I did not mind being woken by the sound of Gemsbok munching on the bushes outside the cottage window.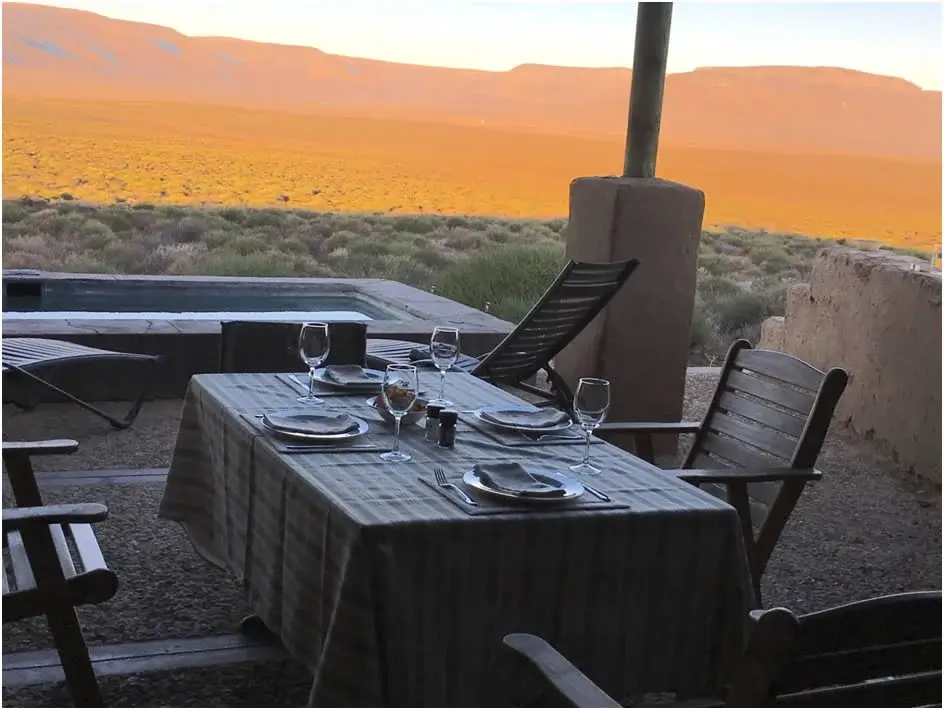 Day four  was all off roff road again, and riding though the Tankwa Park we spotted lots of game, including springbok, Gemsbok, Bontebok, Ostrich, Baboons and Vervet Monkeys. We had planned quick stop at the iconic Tankwa Padstal (a roadside restaurant and bar in the middle of nowhere) but this turned out to be not so quick, as the hospitability of the locals and quirky décor of the place inevitably forces you to stay longer than planned.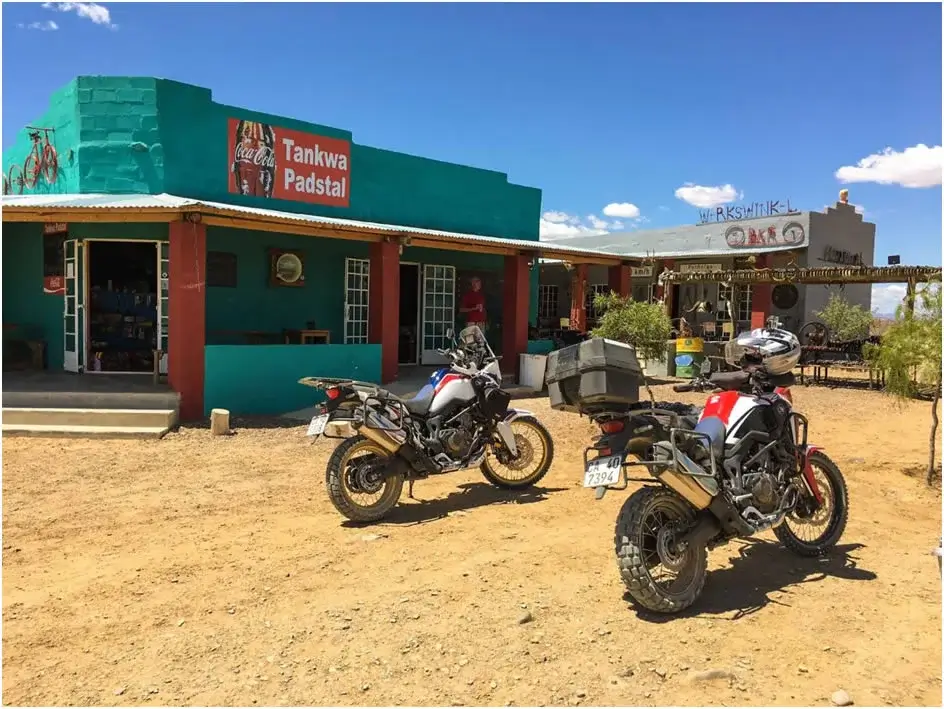 Leaving the plains of the Karoo we made our way up Skittery Pass and headed to our lodgings at Kagga Kamma Private Nature Reserve, with chalets set into the rock formations and views of the sun setting over the rock formations.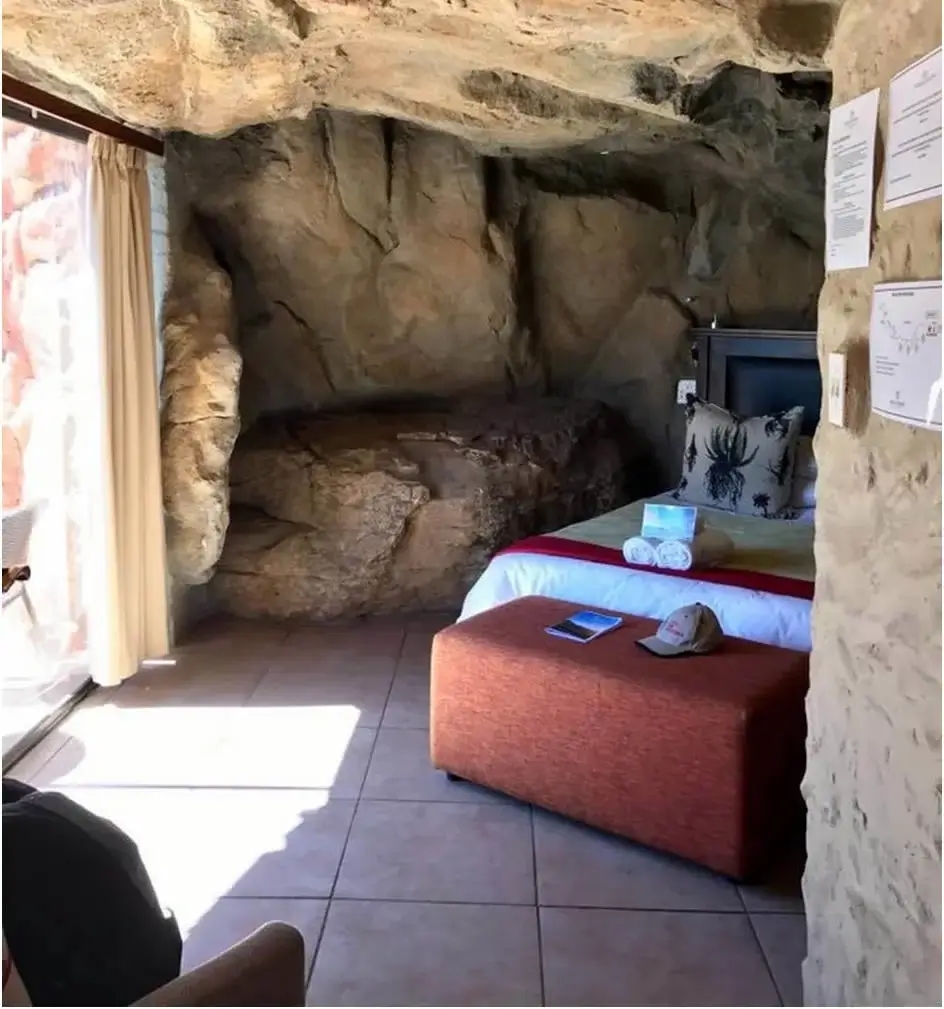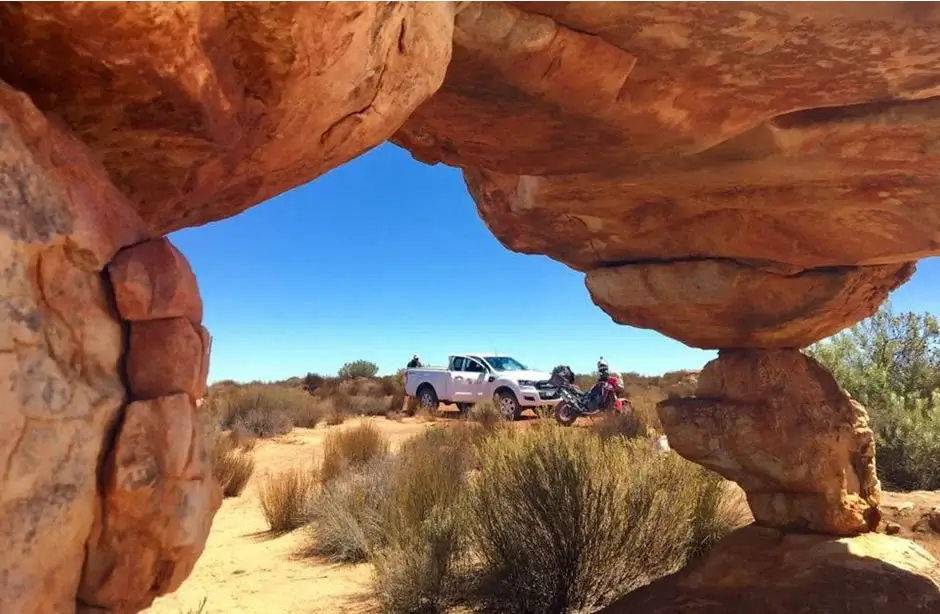 Another swim in the pool,a great meal around the fire at the boma and we were all ready for a good nights sleep.
Day five still had plenty of good riding on our jurney back to Cape Town, and after admiring the views from Katbakkies Pass we headed through Ceres and towards Bainskloof Pass, with 187 bends making this paved road spectacular to ride. A quick stop for lunch at Spice Route and then a leasurely ride back into the Mother City brought a fantastic 5 days to an end.
The following day Dave and Donna planned to visit the beautiful coastal town of Hermanus, so rather than sit in a rental car on such a nice road, they rented an Africa Twin from us, and made the most of the drive and all the attractions along the way.
While our guests thorougly enjoyed themslves and the crew of Africa Twin Adventures did too, hearing comments and being able to see the beauty of our country through the eyes of others, is always a privelage.